TMJ, Face, and Jaw Pain
Symptoms vary and might include ear ache, headaches, migraines, tooth ache, locked jaw, trismus (difficulty opening your mouth), clicking, cracking or popping jaw, tooth grinding (bruxism), sinus pain, diificulty swallowing, speaking, sleeping as well as sensitivity to light and noise.
With an advanced massage protocol that focuses on releasing trigger points and facial adhesions from painful area and surrounding areas as well as non-invasive realignment of the cranial bones through cranio-sacral therapy, we can greatly reduce or relieve the pain completely (this might take some time and commitment). Some common causes of TMJ are : dental work, anxiety, stress, trauma, crowded teeth, braces, loss of teeth, tooth grinding (bruxism).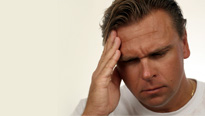 According to a recent study one in four people suffer from TMJ
Here are our treatments to common sports injuries.
Muscle pulls- Help prevent your muscle from healing in a shortened capacity. Unless your muscled is lengthened with massage therapy, the muscle is likely to pull again.
Neck pain– help strengthen our neck and prevent pain by treating muscle spasms with a combination of message and gentle stretches.
Shoulder pain– help with physical therapy so you strengthen your rotator cuff muscles for holding your shoulder in strongly in place so you can return to your sports activity.
Lower back  pain and strain– help release tense or strained muscles in your lower back due to awkward twists like in rotating to complete a golf swing.
Tennis or Golfer's Elbow– help relieve your inflammation in tendons connecting muscles to your elbow as well as show you hove to move to reduce the likely hood of stressing your elbow in the future.
Runner's knee- help strengthen your quad muscle to ease muscle contraction that causes misalignment of your kneecap.
Shin splints– help alleviate pain of the overused muscles near the shin bones.
Ankle sprain– help overcome stiffness and restore your range of motion limited by your stretched ligaments.
If you are suffering from TMJ, Face, and Jaw Pain, book at our  Main Line Massage Therapy Studio, located in Wayne, PA.
and remember our guarantee, we aim for results and we guarantee results!
Serving: Mainline PA, Bryn Mawr, Ardmore, Haverford, Havertown, Rosemont, Radnor, Wayne, Malvern, Villanova, St. Davids, Devon, Berwyn, Paoli, Wynnewood, Narberth, Bala Cynwyd, Merion, Merion Station, Gladwyne, Broomall, Marple, Newtown Square, Media, Springfield, King of Prussia, Gulph Mills, Philadelphia, Mount Airy, Manayunk, Chestnut Hill, Pennsylvania