Athletes use physiotherapy to recover and rehabilitate from strains, muscle pulls and any symptom having to do with over exertion.
Even if you are not currently suffering from an injury, sports massage can help you prevent injuries.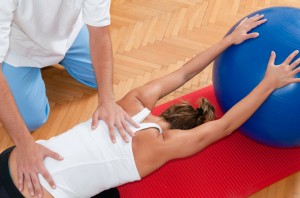 The most common sports injuries are; running knee pain, tennis elbow, shin splints, ankle sprains, hamstring strains and groin strains.
Massage techniques for sports injuries require firm and deep pressure to break down injured tendons and loosen tight muscles. Massage therapy helps sports enthusiasts heal and perform at their peak, while preventing future injuries. The most effective treatment emphasizes stretching and strengthening after corrective repair has been applied.
During periods of high exertion, like golf or tennis season, regular massages will help you stay in the game as well as prevent injury.
Here are our treatments to common sports injuries.
Muscle pulls- Help prevent your muscle from healing in a shortened capacity. Unless your muscled is lengthened with massage therapy, the muscle is likely to pull again.
Neck pain– help strengthen our neck and prevent pain by treating muscle spasms with a combination of message and gentle stretches.
Shoulder pain– help with physical therapy so you strengthen your rotator cuff muscles for holding your shoulder in strongly in place so you can return to your sports activity.
Lower back  pain and strain– help release tense or strained muscles in your lower back due to awkward twists like in rotating to complete a golf swing.
Tennis or Golfer's Elbow– help relieve your inflammation in tendons connecting muscles to your elbow as well as show you hove to move to reduce the likely hood of stressing your elbow in the future.
Runner's knee- help strengthen your quad muscle to ease muscle contraction that causes misalignment of your kneecap.
Shin splints– help alleviate pain of the overused muscles near the shin bones.
Ankle sprain– help overcome stiffness and restore your range of motion limited by your stretched ligaments.
If you are suffering from a sports injury or want to stay at peak performance, contact Ease UP and remember our guarantee, we aim for results and we guarantee results!!
Serving: Mainline PA, Bryn Mawr, Ardmore, Haverford, Havertown, Rosemont, Radnor, Wayne, Malvern, Villanova, St. Davids, Devon, Berwyn, Paoli, Wynnewood, Narberth, Bala Cynwyd, Merion, Merion Station, Gladwyne, Broomall, Marple, Newtown Square, Media, Springfield, King of Prussia, Gulph Mills, Philadelphia, Mount Airy, Manayunk, Chestnut Hill, Pennsylvania