or call (610)  964 – 1888.
Massage Therapy can help eliminate your Chronic Pain
Massage therapy can help reduce pain and restore mobility and eliminate discomfort.
Through the use of preventive maintenance, self-care exercises and frequent massage sessions, your pain can be greatly reduced and movement can gradually return.
You'll be able to function and live without grimacing in pain!
We aim for results and we guarantee results!
EASE-UP has a 90% success rate in alleviating pain.
We guarantee our deep massage therapy/muscle therapy services because our experienced therapist have the skills and experience to effectively relieve your pain. They can help you regain and maintain a pain free life.
The Benefits of Massage Therapy & Muscle Therapy are:
Ability to attain personal and professional goals with more ease
Increase athletic performance
Greater movement and flexibility so you can resume sports or activities you love
Wake up feeling refreshed and ready to take on the day!
EASE-UP's muscle therapists use a variety of bodywork modalities designed to help clients relieve and eliminate soreness and pain caused by soft tissue dysfunctions. The techniques used by EASE-UP's therapist are safe and extremely effective for treating a variety of soft tissue problems including: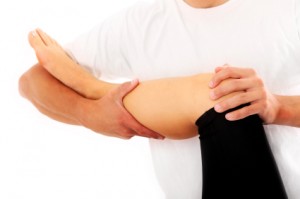 EASE-UP stands behind its services.
We aim for results and we guarantee results!!
SOFT TISSUE RELEASE
Soft Tissue Release consists of assisting the client to stretch a specific muscle while the therapist applies compression to the muscle that is being stretched. Soft Tissue Release is extremely effective in eliminating pain caused by soft tissue dysfunction and the client usually experiences improvement after the first session. The goal of Soft Tissue Release is help to restore the body to function pain free.  Schedule Online Now.
NEUROMUSCULAR THERAPY
Neuromuscular Therapy is a deep soft tissue massage that focuses on treating hyper constricted muscles that compresses blood vessels and entraps nerves which are the major causes of acute and chronic pain and circulatory problems. Neuromuscular Therapy uses posture analysis and muscle tone to help determine what specific muscles are to be treated. This therapy has a high success rate in helping clients to alleviate pain on a long time basis.
INTEGRATIVE MUSCLE THERAPY
A highly effective and successful bodywork session that focuses on treating specific areas of soft tissue restriction and dysfunctions. Each session includes a combination of various bodywork modalities such as Soft Tissue Release, Neuromuscular Therapy, Movement Reeducation exercise, Craniosacral, Muscle Energy Technique and Active Isolated Stretching with deep tissue massage. Specific Movement Reeducation, and Active Isolated Stretching exercises are also demonstrated in each session to help the client to continue the recovery process after the session.   
HOT STONE MASSAGE THERAPY
Hot stone massage is a combination of bodywork and thermo-therapy that involves using heated stones in conjunction with deep tissue therapeutic massage. In this modality, round, smooth stones are heated to a luxurious warmth and used in the palms of the therapist's hands to massage the body. The heated stones are variety of sizes for use on different areas of the body. The deep penetrating heat from the stones combined with their weight allow knotted, tight muscle to release and relax with minimal resistance. This provides logistical relief to stiff, sore and aching muscles.
SWEDISH MASSAGE
Swedish Massage is one of the most basic techniques that are taught to professional massage therapists. The focus of Swedish massage is general relaxation, stimulation of circulation, enhancing muscle tone and is also therapeutic in reducing muscle tightness.
The basic techniques of Swedish massage are Effleurage, Pettrissage , Tapotement, Vibration, nerve strokes and Swedish gymnastics.

ACTIVE ISOLATED STRETCHING
Active Isolated Stretching (AIS) is one of the best kept secrets to attaining and maintaining a flexible and pain free body. AIS is a specific method of stretching and lengthening tight and constricted muscles, tendons, ligaments and fascia. Besides being highly effective in improving flexibility, decreasing sports and repetitive injuries, and enhancing athletic performance; Active Isolated Stretching is great stretching program that can be easily taught to clients in order for them to maintain their flexibility and have pain free bodies.  Schedule Online Now.
 FOREARM FUSION
Forearm fusion provides clients with a remarkably deep (if requested) but also very flowing and notably relaxing massage
REPETITIVE STRESS SYNDROME MASSAGE
Repetitive Stress Syndrome massage therapy consist of specific and effective treatment of the muscles of the arm to prevents or treat various repetitive stress injuries. Stretching and strengthening exercises are taught to clients to attain muscle balance of the muscles in arm and hand.
SEMINARS/WORKSHOPS
Unlocking Your Body
Preventing Repetitive Injuries
Active Isolated Stretching
How Not To Be Distorted At 85
RATES
One hour bodywork sessions: $85.00 to 90.00
 or call (610)  964 – 1888.
Serving: Mainline PA, Bryn Mawr, Ardmore, Haverford, Havertown, Rosemont, Radnor, Wayne, Malvern, Villanova, St. Davids, Devon, Berwyn, Paoli, Wynnewood, Narberth, Bala Cynwyd, Merion, Merion Station, Gladwyne, Broomall, Marple, Newtown Square, Media, Springfield, King of Prussia, Gulph Mills, Philadelphia, Mount Airy, Manayunk, Chestnut Hill, Pennsylvania